USD 312 Buildings will be closed November 23-25 to enjoy the holiday with our families. We will return on Monday, November 28.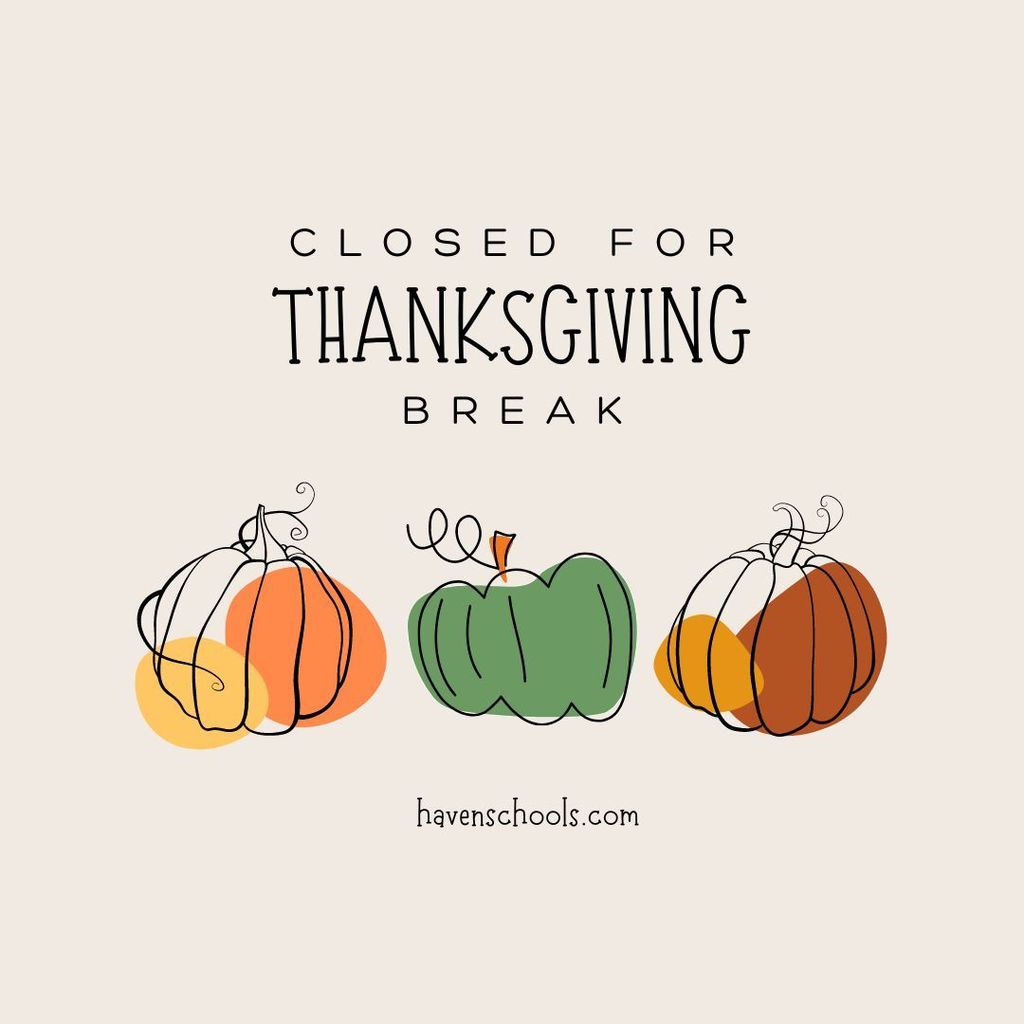 USD 312 Families : Please be aware that last night the Board of Education approved a calendar change. 3/10/2023 - Regular School Day 4/24/2023 - Collaboration Day (No School)
It's National School Psychologist Awareness Week. Please join us in thanking our school psychologists who work so hard to help our students thrive! #SchoolPsychWeek #312Proud

On Monday, Nov. 7th, academically eligible Juniors and Seniors will have the option to attend a college planning conference at HCC. Students will only miss a portion of their morning classes and the buses will leave at 8:30 am. Students that wish to stay at school may do so.

On Tuesday, November 1st, Haven High School Juniors will be taking a trip to Hutchinson to attend a Career Expo. Juniors will leave at 8:30am and will return before lunch.

Haven High School did conduct a soft lock down drill this morning. Class was in session as usual. During the drill we had Reno County K-9s conduct a search of building like we have done in the past.

Haven High School would like to invite all of our parents and students to Parent Teacher Conferences tomorrow, 10/18 and Thursday, 10/20 from 4pm- 8pm. Parents are welcome to attend at any time and visit with their student's teacher(s) and/or Advisory Teacher. Cookies will be served!

Senior Parents, On October 18th, Haven High School will be taking all seniors to Wichita State University for a Future Fair. Seniors will have an opportunity to eat lunch in Wichita before we arrive at Koch Arena. If students would prefer a school lunch, they need to let the office know by the morning of Oct. 18th. Parents that do not wish for their child to attend may contact the front office. The seniors will only be gone for a portion of the day and will be back before the end of the school day. This event is only for seniors.
Congrats to our District! A study conducted by the Georgetown Center for Education and the Workforce predicts that 71% of the jobs in Kansas will require some additional form of education after high school. That means 70 to 75% of all Kansas high school graduates must complete some level of postsecondary education, whether that is a four-year degree, two-year degree, certification program or entering the military, in order to meet Kansas' workforce needs. To help districts determine if students are continuing on the road to success two years after graduation, Kansas looks at three different measures, using a five-year average. The postsecondary success rate is the percent of high school graduates who either earned an industry-recognized certification, a higher education degree or continued their education two years after graduation. The postsecondary effectiveness rate uses the same post high school criteria but includes all students who began high school in ninth grade, regardless of graduation status. The postsecondary predicted effectiveness rate recognizes that Kansas communities are different. This measure attempts to level the comparison by recognizing certain risk factors (cumulative poverty, chronic absenteeism and student mobility) as influences on success. Accounting for the degree to which risks factors are present, this measure predicts a district's expected effective rate. The Postsecondary Effectiveness Star Award recognizes districts that exceed the predicted effectiveness rates (including risk factors) compared to their actual effectiveness rate within a margin of error, with the highest recognition for those districts at or above 70%. #312Proud
Congrats to our District! The Kansas State Board of Education defines a successful high school graduate as having the academic preparation, cognitive preparation, technical skills, employability skills and civic engagement to be successful in postsecondary education, in the attainment of an industry recognized certification or in the workforce, without the need for remediation. The Prepared for High School Graduation Award starts to recognize those districts whose students are scoring above the state average on state assessments, with the highest awards going to school districts with 75% of students at levels 3 and 4. Districts are recognized annually for the percent of all students, across all grade levels scoring at levels 3 and 4 on Kansas state assessments in math, English language arts and science. It is the combination of all grades in all three assessed subjects. #312Proud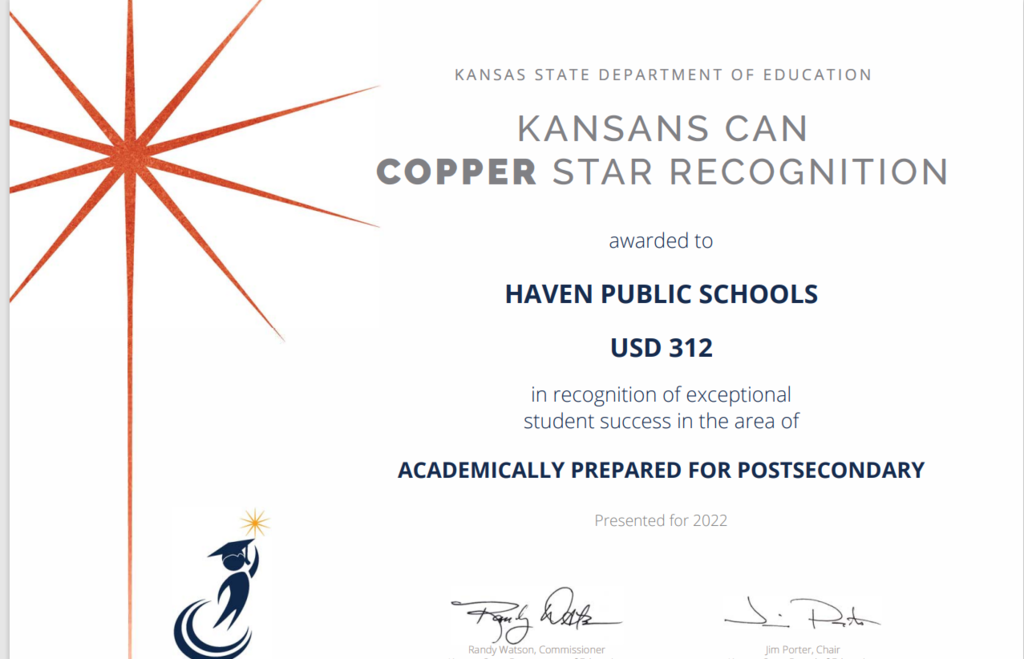 The High School Homecoming Dance is this Friday immediately after the football game. It is scheduled to end at 11 pm, but could go as late as 11:30 pm based on the length of the football game.

USD 312's food service employees received a 2021-22 Kansans Can Best Practice Award! We appreciate all the work they all have done to make our food service program so successful! #312Proud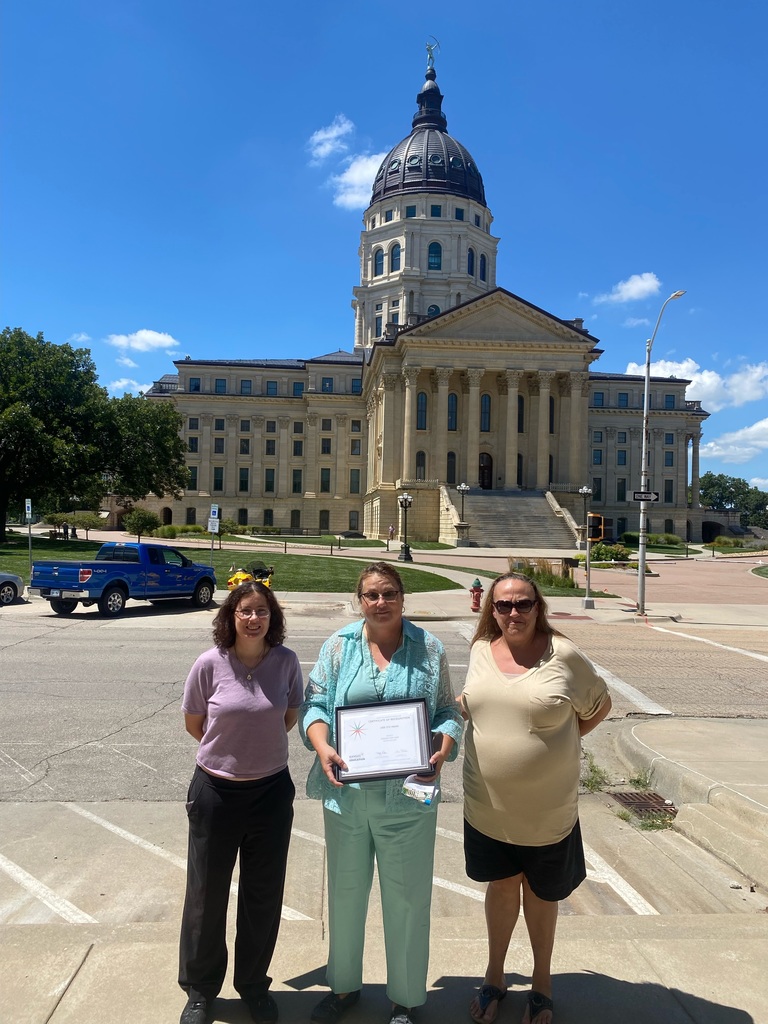 Our after school program at HGS is prepared to be up and running on the first day of school! If you are needing after school care for your child, please see below!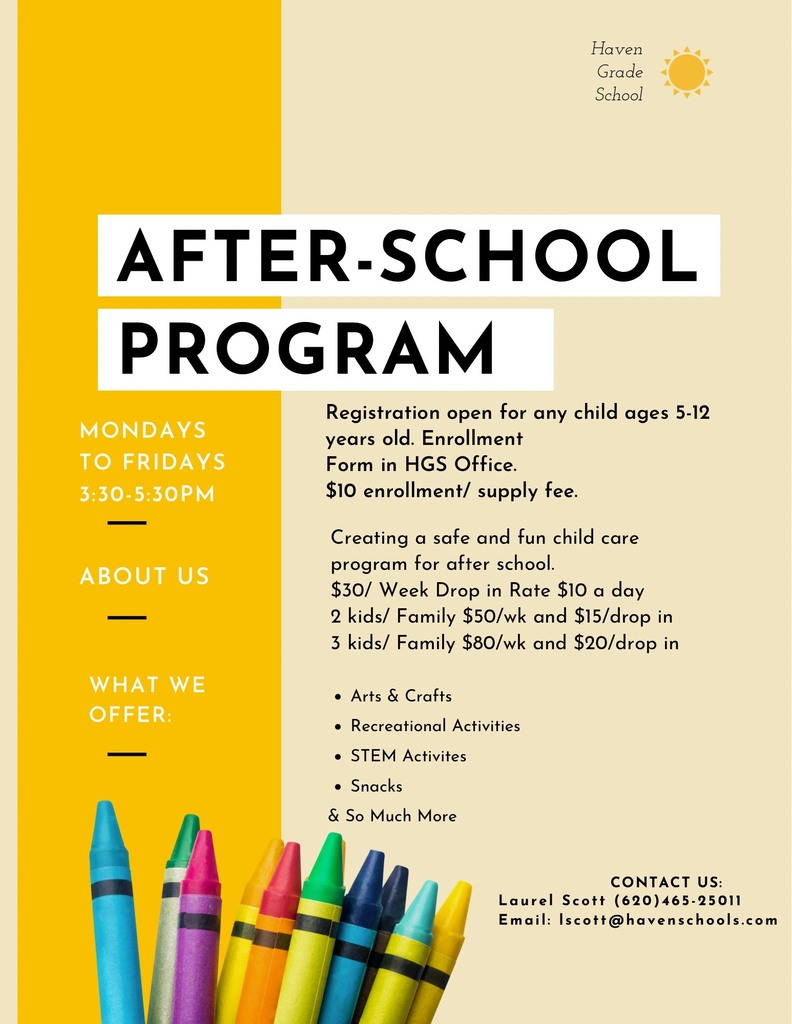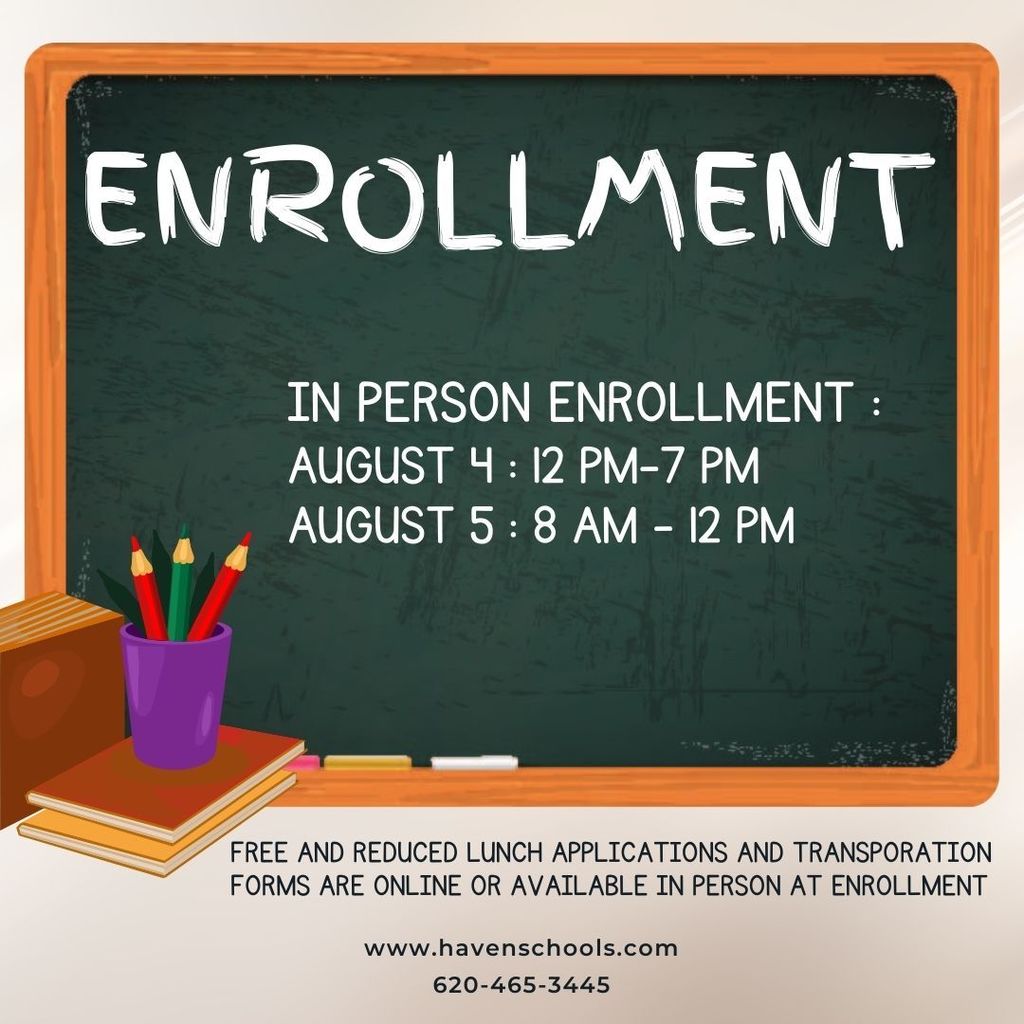 USD 312 is excited to announce that you can now apply for free and reduced lunch fees online! Paper applications are still available from the District Office and will be available at enrollment in August.
https://schoolmealsapp.ksde.org/Home/welcome/D0312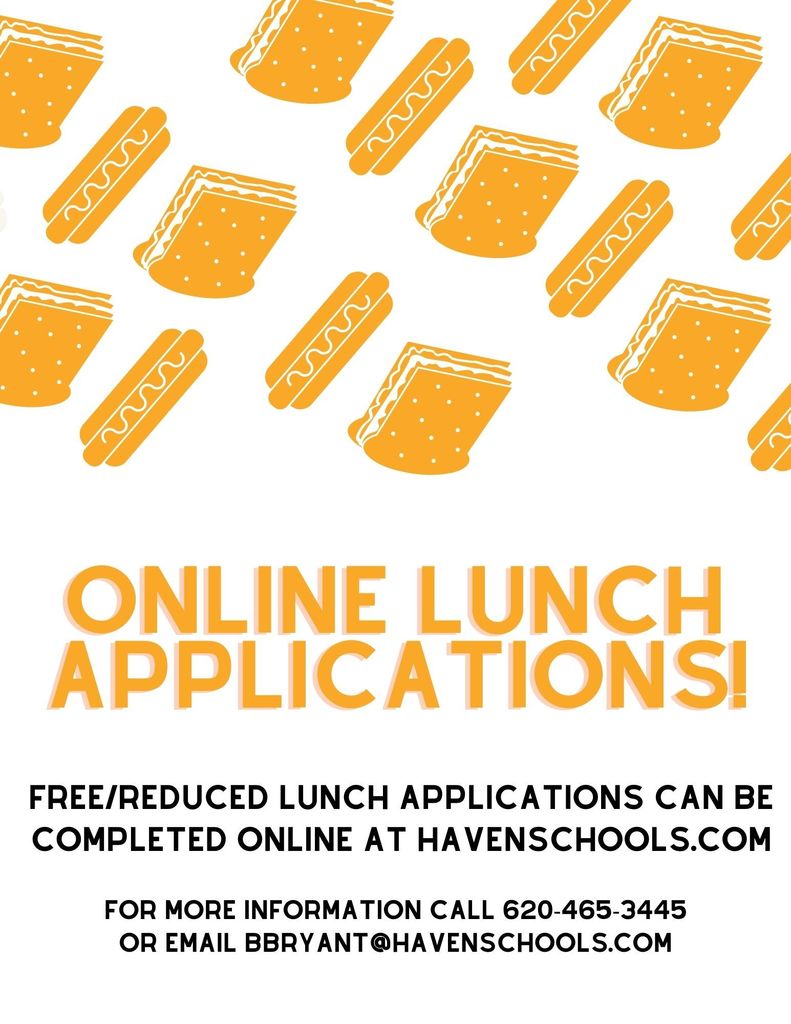 There was a scheduling conflict with middle school boys summer strength and conditioning. To fix this we will be changing their days and times to Tuesdays and Thursdays, from 7:30-8:30 am. This change will start next week (6/13, and continue for the remainder of the summer. We apologize for any inconvenience. If you have any questions, reach out through the Haven Wildcat Football Facebook page.

Avoid the hassle of Back to School shopping and pre-purchase your supplies. Everything your student needs for class in one box, it's that easy! Orders are due June 9th. Go to
www.shopttkits.com
HGS Account #96307

HGS Families- Below is our schedule for classroom awards celebrations on Wednesday 5/18. With exception of 6th grade, all will take place in their classroom. We have tried to alternate the schedule. You are welcome to check your student out after their ceremony. 8:30 - 8:45 - 6th grade - Cafeteria 8:55 - 9:10 - 5th grade 9:15 - 9:35 - 4th grade 9:40 - 10:00 - 3rd grade 10:05 - 10:35 - 2nd grade 10:40 - 10:55 - 1st grade 11:00 - 11:15 - Kindergarten